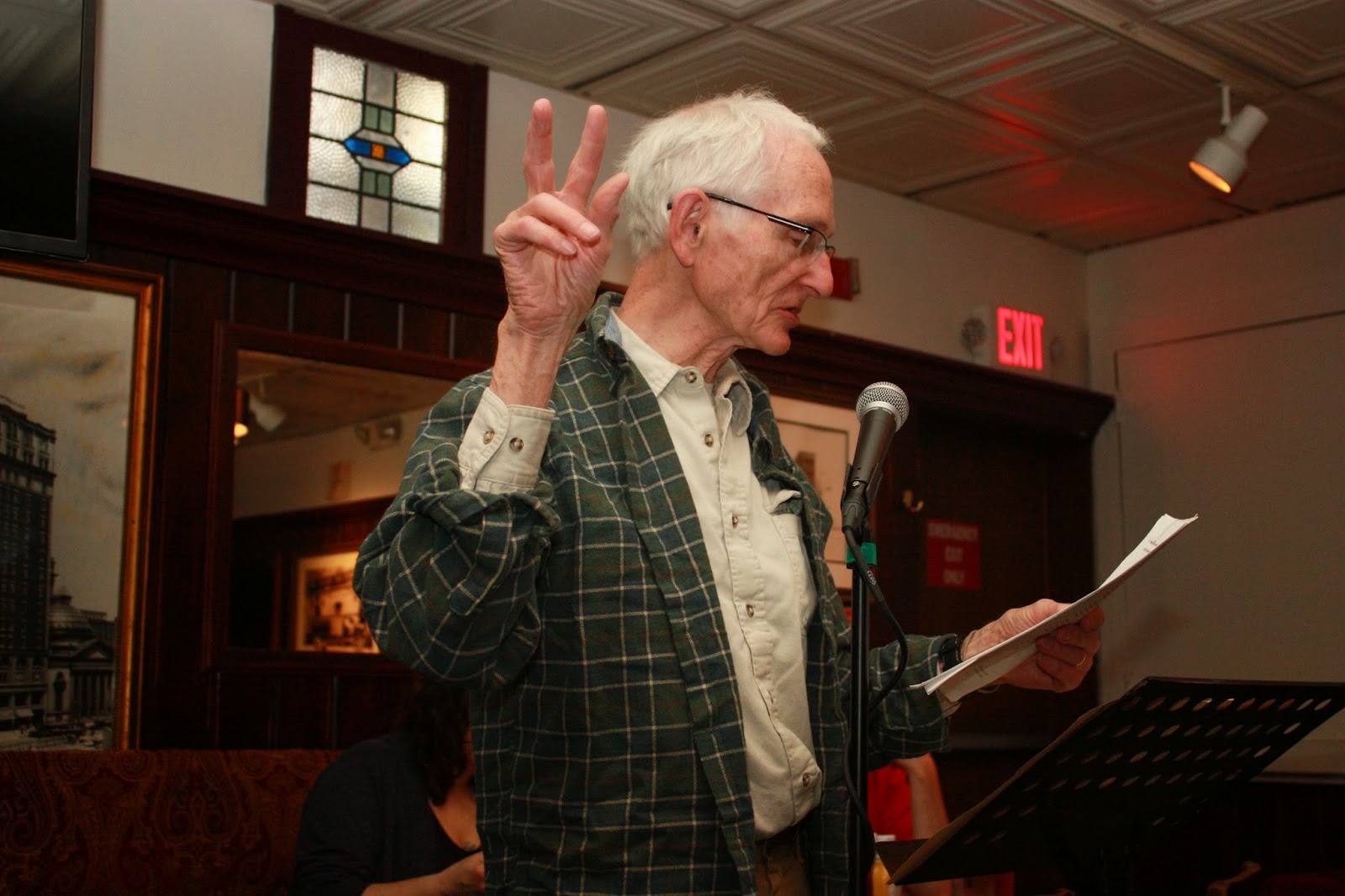 POET, WRITER, & PLAYWRIGHT
Key West, Schenectady, Westport NY
Old poet, new playwright, I write to explore the underlying, often hidden patterns of everyday life, nature, and society.
In a lifetime of observation and travel, teaching and editing, but above all writing, I have created a raft of poems, as well as essays on social and political questions, an epistolary novel on the end of the Roman occupation of Britain. Now I may be about to launch a series of plays on aspects of the life of Elizabeth Bishop, one time U.S. poet laureate.
Born in Ossining, NY, 'in the shadow of Sing-Sing,' I grew up first on Mt. Airy Road in Croton-on-Hudson, my father taught at the progressive school, Hessian Hills and I was a student there. Next, I lived in Depression-Era Provincetown, followed by Manhattan and finally during World War II, Washington, D.C.; New York City, however, was the center of my universe. My mother was a native from the Gas House District, and my grandparents lived out their lives in the city. My mother married the artist, Jack Tworkov and lived with him in the Village. Later she and George F. Willison, my father, got together. "JoJo," as I called him, was a non-academic 'independent author,' best-known for his book on the Pilgrims, was Saints & Strangers (Reynal and Hitchcock, 1945). He was later National Editor for the WPA Writers Project's State Guide Series, and then a speechwriter for the Democratic National Committee.
I graduated from high school in Saratoga Springs, NY, because my father's best-seller, Saints & Strangers, gave my parents the money to purchase their first house, "South Hill," the name given it by my parent's friend, Katherine Anne Porter (Ship of Fools, Little, Brown, 1962), from whom they purchased the converted farmhouse in Saratoga County, New York. Living so close to the Writers' Colony, Yaddo, a long list of writers came for dinner at South Hill, including a very young Truman Capote, who, afraid of a bat, sequestered himself in the coat closet one afternoon. Writer and activist Agnes Smedley (Daughter of Earth, Feminist Press, 1973) lived with us briefly after being cast out of Yaddo for her politics. KAP, as my parents called Katherine Anne (Porter), visited but could not stay—the dampness which had forced her to sell South Hill, worsened her asthma.
After high school, I attended Swarthmore and then Cornell for graduate work in sociology, anthropology, and Southeast Asian studies. I worked as a social research editor in NYC, and then taught at William & Mary, Princeton, Vassar, Union, Siena, and Tulane. I was a partner in a social science research firm, and also a manuscript editor for a long list of mostly academic books and articles, primarily in history and social science.
I've travelled, thanks especially to my wife, Martha K. Huggins, to all world continents except Antarctica, and lived for extended periods in the Netherlands, Brazil, and Japan. But the city with the greatest impact on my life, outside New York City, was New Orleans, where we lived before, during, and after hurricane Katrina (2005). Bubbling with life, music, art, and poetry, we grieved about leaving New Orleans after nine years, but we longed for our little place in Key West, Florida. There I stumbled on the house that Bishop had owned during the WWII era—it was just around the corner and could be seen from our shower window. In Brazil, I had been inside Elizabeth Bishop's precarious historic hillside house that she had restored, located in the eighteenth century mining town, Ouro Preto. I followed Bishop's trail back to her earlier house in Key West, where I began writing poems about the author herself and studied playwriting which led to my first short play, "A House of One's Own."
A House of One's Own:
Elizabeth Bishop in Key West
Above: Elizabeth Bishop, likely in Key West. Below: Bishop and Louise Crane.
R: Bishop sunning on steps, presumably in Key West.
Bishop's former home at 624 White Street in Key West.
Excerpts from the play, all in Bishop's voice:
SCENE 1: "Key West would be such a nice town to stay in…. it has what I need: 'peace and quiet'."
SCENE 2: "You really do like this beautiful house, don't you, Louise?... Maybe I'll put in some Traveler's Palms out front?"
SCENE 3: "Marianne Moore … got me to leave the capitals off the first word of each line, so I feel very 'Advanced.' My work goes as slowly as ever. … The words in my head are just like icebergs or rocks, or awkwardly-placed furniture. I feel if I could just joggle them around long enough, maybe something electrical might arrange them."
"If I can get enough writing done … I can face my New York friends."
SCENE 4: "Marjorie, you are truly wonderful to invite me to stay with you. … I simply can't work at my house. … And my friends are so sick of my incoherent late night calls. …
SCENE 5: "I have finally scraped together enough…to buy Louise's share of the house. … I do love it, but it is such a nuisance. … Really I must keep traveling."
SCENE 6: "Oh, Marjorie, … I know how strongly you feel … I should not come back to Key West. … But I just couldn't stay on in New York…. I have decided to sell the…house. I'll finally…travel…where I can work. … You won't come with me… . I do hate to sell that house of mine: I've always loved it, whatever its problems, and my own. … I need … a quiet place, with … lots less alcohol.
But I'll keep traveling—why not South America to visit … that fascinating woman I met … in New York. Anyway, I must keep going, north or south, looking for a house in which to write, and live, and even love."
R: Marjorie Carr Stevens, Bishop's companion after Louise
TADA! Theatre | Oct 7th | 7 pm | 15 W 28th St, NYC
A House of One's Own: Elizabeth Bishop in Key West
Malcolm's play will be presented at TADA! Theatre on October 7th at 7 pm, along with 2016's other winning submissions. The TADA! venue is a Chelsea NY theatre shared between EAT performers and a children's theatre group.
While "A House of One's Own" was performed last May in Key West by Fringe Theatre to much acclaim, there was no time set aside for audience feedback. EAT's New Works series provides time at the end of each play for comments and suggestions, which are highly encouraged.
Please join us on the 2nd floor (elevator available) for the play's performance and to offer your thoughts afterwards. Tickets are $10 and can be purchased online here.
Malcolm Willison, old poet, new playwright, uses letters and poems in a monologue by young Elizabeth Bishop, later U.S. Poet Laureate (1949-50). A House of One's Own chronicles, during WWII-era Key West, Bishop's increasingly difficult relations with her house, her lovers and friends, and with poetry itself. Bishop talks of her purchase, occupancy, renting out, and finally selling her house at 624 White Street in Key West. She loved her house, while losing one partner (Louise Crane) and then another (Margaret Stevens). Sinking into alcoholism and writer's block, young Elizabeth Bishop managed in the end to persevere in life as a poet.
EAT New Work Series | 2016 Winner | Chelsea NYC
The Emerging Artists Theatre (EAT) New Work Series is a three-week developmental festival that provides artists of different disciplines the opportunity to present one night of a "work in progress" with audience feedback. A small group of applicants are selected annually to participate, and this year marks the 15th anniversary of the series. Successful Fringe, NYMF, and Off-Broadway shows have been born out of this festival.
Fringe Theatre | May 11th | 7 pm | KW
Join us in the Parish Hall of St. Paul's Episcopal Church at 401 Duval Street in Key West, FL for a free evening of theatre. All plays have been created by local writers in Toby Armour's playwriting workshop, and will be read by local actors with Fringe Theatre.
A rough draft of my short play, A House of One's Own: Elizabeth Bishop in Key West, will be performed as a monologue which intimately chronicles Bishop's life around the time she began living in Key West.